Event witnesses enthusiastic participation ;Championship to be held across the country from October New Delhi.    Asal Baat News.    Keepi...
Also Read
Event witnesses enthusiastic participation ;Championship to be held across the country from October
New Delhi.
Asal Baat News.
Keeping up with its objective to promote a healthy lifestyle, Fit India Mission in association with the Ministry of Law and Justice organised the second edition of the Inter-Ministry Bar & Bench Badminton Championship at the Thyagaraj Sports Complex here today. The tournament witnessed enthusiastic participation from judges, lawyers, and officials of various ministries of the government of India. The event was inaugurated by Union Minister of Law and Justice Arjun Ram Meghwal. He was dressed in traditional attire.
The event saw his spirited participation and impressive stroke-making in a short exhibition match."One must play some sports as it keeps you fit. Our honorable judges and advocates who are participating here will agree that if they are fit then India is fit," Meghwal said.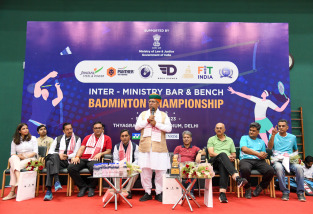 "In India we have a tradition of our saints and sages teaching us about leading a healthy lifestyle. It has now become universal that we can remain fit through sports. Whether it is in a rural or urban area, wherever you go in the country you could see sports happening everywhere."
"I come from Bikaner, Rajasthan and in our area kabaddi and kho-kho were very popular. At that time, badminton was looked upon as an urban or a semi-urban sport. Today badminton is known for not only keeping you fit but also for developing team spirit, coordination, and a positive outlook. I congratulate the organisers and participants for this wonderful initiative," he said.
President of the Supreme Court of Advocate Association Justice Vikram Nath, Supreme court lawyers Vikas Singh and Pradeep Rai were among the other dignitaries who were present at the event.
"This is the second time when the inter ministry tournament has been organized with the support of Supreme Court Bar Members including Supreme Court Advocates On Record Association. It has the participation of judges, several senior advocates, luminaires, young lawyers and officials of the ministry .