ABSS 2023 coincides with 3rd anniversary of National Education Policy 2023 New Delhi. Asal Baat News.    The Ministry of Education and Ski...
Also Read
ABSS 2023 coincides with 3rd anniversary of National Education Policy 2023
New Delhi.
Asal Baat News.
The Ministry of Education and Skill Development & Entrepreneurship signed 106 Memorandum of Understanding (MoUs) with various esteemed organizations and institutions today, on the occasion of the Akhil Bhartiya Shiksha Samagam 2023 and the 3rd anniversary of the National Education Policy. The MoUs encompass partnerships with both public and private entities to foster innovation, research, and knowledge exchange in multiple domains, ushering in a new era of collaboration in education and industry-academia linkages.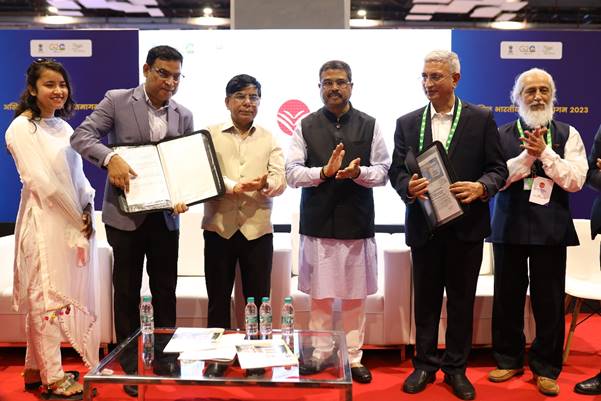 The signing took place in the presence of Union Minister of Education and Skill Development and Entrepreneurship Shri Dharmendra Pradhan, Minister of State for Education Shri Subhas Sarkar, Minister of State for Education Smt. Annapurna Devi and Minister of State for Education Shri Rajkumar Ranjan Singh who expressed their praise for the present education and industry leaders of the country for taking steps to nurture the leaders of tomorrow through this auspicious event under the guidance of Prime Minister of India.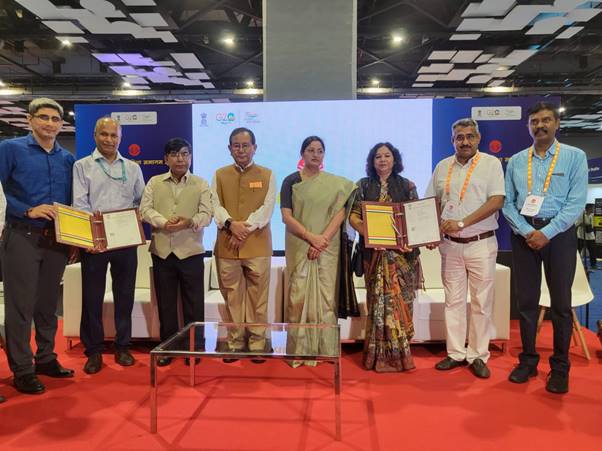 School education and literacy:
Under CBSE, 15 MoUs were inked, with different Institutes and Sector Skill Providers to give specific focus on the skill development and education. These partnership will also promote skill assessment and capacity building. These MoUs were signed in association with the Atal Innovation Mission, IBM, Intel, Microsoft, Apparel Made-Ups and Home Furnishing Sector Skill Council, Automotive Sector Skill Council, Sports, Physical Education, Fitness and Leisure Skills Council, Central Square Foundation (CSC), Educational Initiatives Pvt. Ltd, Oxford University Press India, Logistics Sector Skill Council, Furniture and Fittings Sector Skill Council, Life Sciences Sector Skill Council, Textiles Sector Skill Council and the Healthcare Sector Skill Council.
For the National Institute of Open Schooling (NIOS), 3 MoUs have been signed with the Indian Sign Language Research and Training Centre (ISLRTC) to promote Indian Sign Language to share expertise and resources for standardization and development of quality learning resources in Indian Sign Language; with the Common Service Centres (CSC), Ministry of Electronics and Information Technology to leverage CSC E-Governance Services to facilitate the admission of Out of School Children (OoSC) in NIOS, increase enrolment and provide e-services, and with The Guru Gobind Singh Indraprastha University for academic advancements. An MoU between Navodaya Vidyalaya Samiti (NVS) and IBM was also inked in order to accelerate the activities conducted for effective implementation of Vigyan Jyoti Program in JNVs.
NCERT signed 20 MoUs under the aegis of eVidya initiative with Departments of School Education of several states for development of quality eContent and it's dissemination through PMeVIDYA DTH TV channels in different languages and for various stakeholders.
Higher Education:
In the realm of higher education, 6 MoUs were established to promote the Indian Knowledge System. 14 MoUs under the National Educational Technology Forum (NETF) and All India Council for Technical Education (AICTE) were also signed in partnership with : SkillDzire Technologies Pvt Limited, MathWorks India Private Limited, TimesPro, Google India, Gate India Electronics Private Limited, Future Minds, The Open Group, CONSORTIUM FOR TECHNICAL EDUCATION (CTE), MahaLearning Tab India, Durjeya Solutions Private Limited, Flaunch Innovation Pvt. Ltd, Electronics Sector Skill Council, NIELIT and the Instrumentation Automation Surveillance & Communication Sector Skill Council. Furthermore, 2 SAMARTH MoUs with different states were also inked, alongside an MoU with SAMARTH DU and EdCIL.
In a bid to bolster international collaborations, 6 MoUs have been signed, including the IIT-Madras Zanzibar campus MoU. Additionally, MoUs were also signed between IIT Tirupati and IIFCET, for offering the advanced certification and training course on "Digital Manufacturing and Automation for Foundry Industry" for training and enriching the knowledge of diploma holders/graduate engineers employed in the industry; IIT Tirupati and M/s Siemens/ Wipro for establishing Centre of Excellence on "Smart manufacturing and Electric Vehicle Technologies"; IIT Jodhpur and CU/Raj; IIT Ropar and five Central Universities of North India for academic collaboration and sharing of resources; VNIT Nagpur and TCS to path breaking research in the area of automotive electronics, powers electronics and other related interdisciplinary subjects; NIT Raipur and the Bhilai Steel Plant, the largest steel plant in India giving opportunity.