Portal will help build a comprehensive National Database of Unorganized Workers (NDUW) in the country.

Game changer in the history of the country, where more than 38 Crore workers would register themselves under one portal.

Registration is totally free and workers do not have to pay anything

.



New Delhi . Asal Baat News .
Minister for Labour and Employment, Shri Bhupender Yadav today formally launched e-Shram portal and handed it over to the States/UTs in the presence of the Shri Rameswar Teli, Minister of State for Labour &Employment and Petroleum & Natural Gas.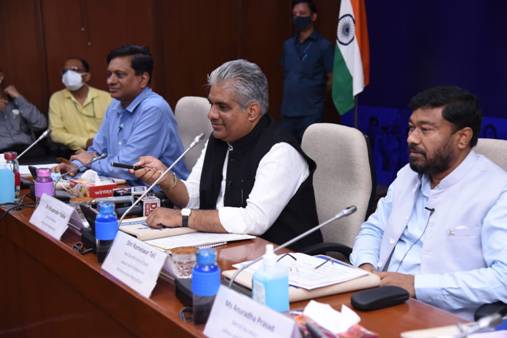 "For the first time in the History of India, a system is being made to register 38 crore Unorganised Workers. It will not only register them but would also be helpful in delivering of various social security schemes being implemented by the Central and State Governments", said the Labour Minister emphasising that it is another key milestone towards furthering the vision of Prime Minister Shri Narendra Modi towards the welfare of the unorganized workers, who are the nation builders of India.
On this occasion, Shri Bhupender Yadav also thanked the Prime Minister for sanctioning of Rs 2.0 Lakh Accidental Insurance cover to every registered unorganised worker on eSHRAM Portal. If a worker is registered on the eSHRAM portal and meets with an accident, he will be eligible for Rs 2.0 Lakh on death or permanent disability and Rs 1.0 lakh on partial disability and government is always committed for the welfare of the workers.
Shri Rameswar Teli, Minister of State for Labour & Employment and Petroleum & Natural gas while highlighting the features of the e-SHRAM Portal, which inter-alia are creation of a National database of all unorganized workers ,also appealed to the people of the country to be part of this campaign and get all unorganized workers registered on the E-Shram portal and become a partner in fulfilling the much-needed goal of the Government of India: